Last night I was having a gentle tidy...folding laundry, doing the washing up, sewing buttons on type of thing...looked around and the kitty had tidied herself into a drawer. I suppoe there was residual warmth in the freshly ironed clothes...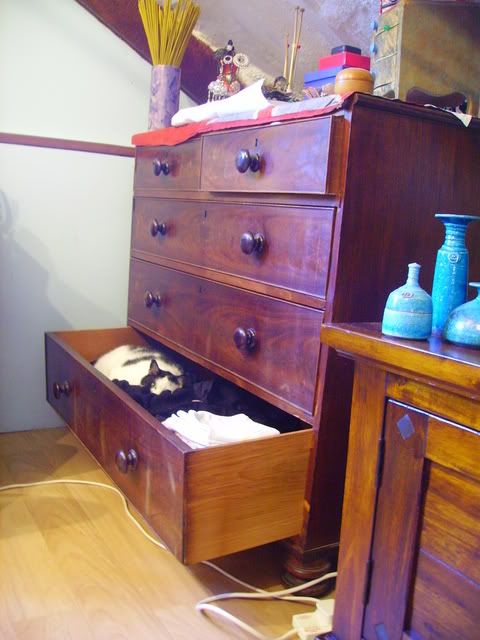 She does love to vary her napping places, and any new box open cupbaords is fair game for investigation.
In other news, I've developed quite a nice little collection of carnivorous plants. So far staying away from the obvious fly-traps, and going instead for the beautifully sculptural qualities of the sarrecenias and sundews. I found out recently that sundews actually grow wild at the nature reserve near to Helman Tor, but I have yet to go on a hunt to see them in a habitat. My folks went to a gardening show at the NEC this week and I was utterly delighted to find this beauty hanging up in the kitchen on my return:
In natural light:
One with flash:

I'm away this weekend, so he can hang out at my folks until I'm back and can find a suitable spot for him above my kitchen table, but isn't he magnificent! You have to love a plant that can produce strange protruberances that manage to look both phallic and vulvic...no doubt more photos later, and suggestions for a name for him appreciated; a plant this groovy needs a good name.

And finally, as much a surprise to me as anything: today I feel well! Not just 'not ill' but actually 'well'. This is so rare, to feel healthy and to have energy and not just feel bone tired and as though 'pushing through treacle'. Long may it last!